Description
This is our most popular option, we'll take your photos, content and colour scheme and create something that reflects your business.
As a guideline, we typically achieve most of the following without exceeding the deposit.
Basic single or two page website using your pictures or stock images.
Connection to Google and Bing to make sure you're spotted.
One or two integrations with social media (scrolling Instagram photos etc).
The first months hosting and registration costs.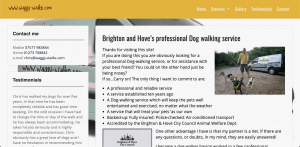 See the Waggy Walks website so you can get an idea of what to expect!